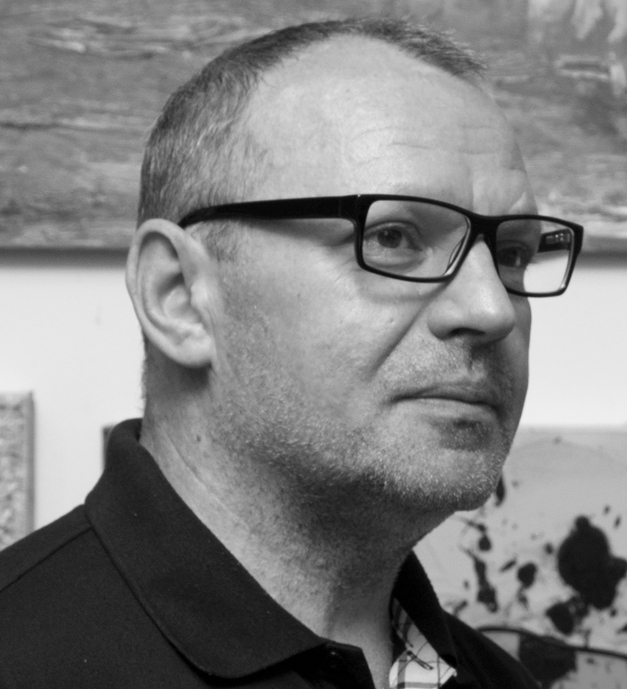 Alexey Klokov, a second generation artist, was born in 1965 in Russia. His first teacher was Anatoly Zverev who encouraged him to find his own way of creativity in art.
Being certified as an artist and art restorer in 1991 by Saint Petersburg Higher School of Art and Industry, Alexey worked in restoration workshops of the Hermitage (Saint Petersburg) and the Tretyakov Gallery (Moscow). His great luck was to be literally in touch with the greatest masterpieces of Picasso, Matisse, Gauguin, Renoir, Van Gogh, Malevich, Kandinsky and others, learning from them "without words".
In 1994 Alexey Klokov settled in a monastery devoting himself to iconpainting, where he also learned the secrets of gilding and the great power of symbolism embodied in the image. It was there where after four years of consistent work he decided to start his own career by building his unique artistic world.
Alexey Klokov's first exhibition took place in 1998 in Moscow where he represented his monastery experience. His special guest of honor, designer Paco Rabanne, highly appreciated the profound spirituality of the artist's works, having bought two paintings for his collection.
Since then the artist's paintings were widely exhibited throughout Russia and abroad in Japan, the United Kingdom, Austria. His works are in the collections of Silvio Berlusconi, Hillary Clinton, the family of Emir of Qatar, Tony Blair, Condoleezza Rice, Madeleine Albright, Boris Johnson, Quentin Tarantino, Emir Kusturica, Patrick Swayze, Paco Rabanne, Marwan Chatila and Russian politicians, businessmen and celebrities.
The manner of Alexey Klokov is easily recognizable and distinctive. His avantgarde esthetics, open color and archpasty brush are noted for his virtuous technique. He works with a palette knife without making preliminary sketches. As the art restorer he proficiently uses gold leaf and high assay gold, rare coins and rarity prints, antique objects and collection wines in his works. In the past years the artist is making a live show by painting in public.